Meet the Providers of Richfield Medical Group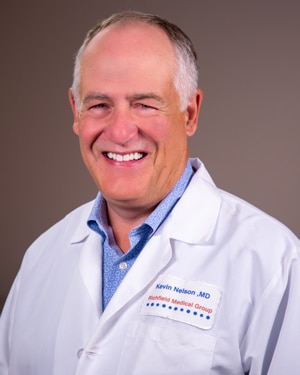 Kevin C. Nelson, MD
Kevin Nelson M.D., a graduate of Augustana College and Rush Medical School, has been in practice at RMG since 1991. He did his family practice residency at West Suburban Hospital in Oak Park, IL. He enjoys patients of all ages and has a practice that accommodates teens, families, and seniors. Active in the community, Kevin has served as a coach for many teams, and volunteers with many organizations. He is a bit of a golf addict but also enjoys reading, watching movies, biking, and traveling with his wife and three newly-adult children.
Justin Golden, MD
Justin Golden grew up in a small town on the south shore of Massachusetts. He received his bachelor's degree from Harvard University and then attended Boston University School of Medicine. He completed his family medicine residency at the University of Minnesota St. John's Hospital program in St. Paul, MN. He was previously practicing at an independent clinic in his home town before moving back to the Twin Cities. He and his wife, Becky, are excited to be back in Minnesota near her family where their four young children can grow up with their cousins. He believes deeply in the values of family practice and is honored to have the opportunity to provide the full spectrum of care to patients throughout their life. He has particular interests in sports medicine, pediatrics, procedures and preventative care. Justin loves to spend as much time with his family as possible, but when they need a break from him he enjoys running the lakes, checking out restaurants and coffee shops, and pretending he is a mediocre fly fisherman. He is so grateful to have an opportunity to work in a patient-centered clinic where he can develop meaningful, long-lasting relationships with people while working together to achieve their health goals.
Alice Macdonald, MD
Alice Macdonald is from London, U.K. and attended medical school at Sheffield University, in England. She completed her first family medicine residency while serving in the British Army. She then married her Minnesotan husband, Scott, while he was living in London. She has since learned that there are only two types of Minnesotan: those that never leave and those that eventually come back so it was inevitable she was going to end up in the land of 10,000 lakes. She completed family medicine residency number two at the University of Minnesota, Methodist Hospital program with Park Nicollet, followed by four years working in a clinic in Eden Prairie, MN. She thrives on building a sincere and caring professional relationship with her patients, offering a warm and friendly bedside manner and helping people arrive at the health care choices that feel right for them. She delights in being able to provide thoughtful primary care to men, women and children of all ages and feels it is an honor to be able to offer management of acute and chronic health needs and preventive medicine at every stage of life. She enjoys all aspects of primary care including a number of office-based procedures (joint injections, minor dermatological procedures) and contraceptive management. She is also board certified in medical weight management. Alice enjoys spending time with her husband and 2 children, running, scuba diving, cycling, quilting, attending book club and spending time at the family cabin on the St. Croix River.
Megan Dutton, Nurse Practitioner
Megan completed her nursing degree and started her career in the operating room at University of Wisconsin-Madison Hospital and Clinics. From there, she progressed through numerous nursing roles over a seven year period before receiving her doctorate as a family nurse practitioner from Augsburg University in Minneapolis. 
Megan enjoys working with adolescents through geriatric populations with a specific emphasis in sexual health, women's health, public health, healthcare sustainability and preventative medicine. In her free time, Megan enjoys spending time with her husband, her bernedoodle, and her friends and family. She loves traveling, riding through every bike trail in the metro, golfing, trying new coffee shops and restaurants, and keeping up on sustainable fashion.
Lisa Braatz, Nurse Practitioner
Lisa grew up in the Twin Cities. She attended St. Catherine University in St. Paul for her Bachelor of Science in nursing. She moved away to Nebraska for a year where she worked in a small community hospital as a nurse before returning home. She was excited to be home and spent nine years working in the Emergency Department at the University of Minnesota Medical Center as a certified emergency nurse before graduating with her doctorate degree from Augsburg University in Minneapolis as a family nurse practitioner.
Lisa enjoys building relationships with families and caring for patients of all ages. She works hard to establish meaningful, long-lasting relationships that are patient-centered. She is passionate about working with her patients to get to know them so together they can form a care plan that is individualized.
In her free time, Lisa enjoys spending time with her husband, 2 young children and 2 dogs. She stays active by playing softball in the summer and running. Her favorite race to run is the Twin Cities 10 mile. She also enjoys traveling up to the north shore and spending time with family at the lake.
Jess, Medical Assistant Supervisor
Katie, Front Office Supervisor
Rachel, LPN – Quality Care Manager
Evelyn, Medical Assistant
Brittany, Medical Assistant
Sylvie, Medical Assistant
Laurie, Patient Care Coordinator
Jamie, Patient Care Coordinator
Rachelle, Patient Care Coordinator
Jessica, Patient Care Coordinator
Nate, Chief Operating Officer